I didn't think that my new weekly feature really had a catchy title. Although "Things that remind me I'm still in Finland" is exactly what I intend to write about, it doesn't have that zing to it that I was looking for.
So I borrowed a little gem from Europe's own continent-wide singing competition, much like American Idol, only with more mullets, and came up with this...
Slip on those Euro Vision glasses and see what I see everyday.
This week's entry:
Milk. Oh so warm, non-refrigerated, perfectly good milk.
And now, apparently, with super-human abilities! (source)
While shopping for milk at grocery stores back in North America usually involves strolling down the nipply aisle (
that
is
the official name for the fridge section
) and reaching your hand as far back as you can into the cooler to get that 'fresher' milk in the back. Check the expiration date, and if you have a week's time, that milk is yours!
Here is what we do in Finland. We walk down the dairy aisle, past the coolers and stare at the shelves full of room temperature, no-need-to-refrigerate-until-opened milk.
Yep, just sitting on the shelf
along with canned goods, pasta and other non-perishables. Oh, and with the eggs, 'cause eggs aren't refrigerated here either.
The hubs and I usually pick up a full carton of milk, that would be 12 single liter Tetra Paks, and head home. A few boxes go in the fridge to cool but the rest sit in our pantry until it is time to drink them. No, we don't drink them warm, just store them that way.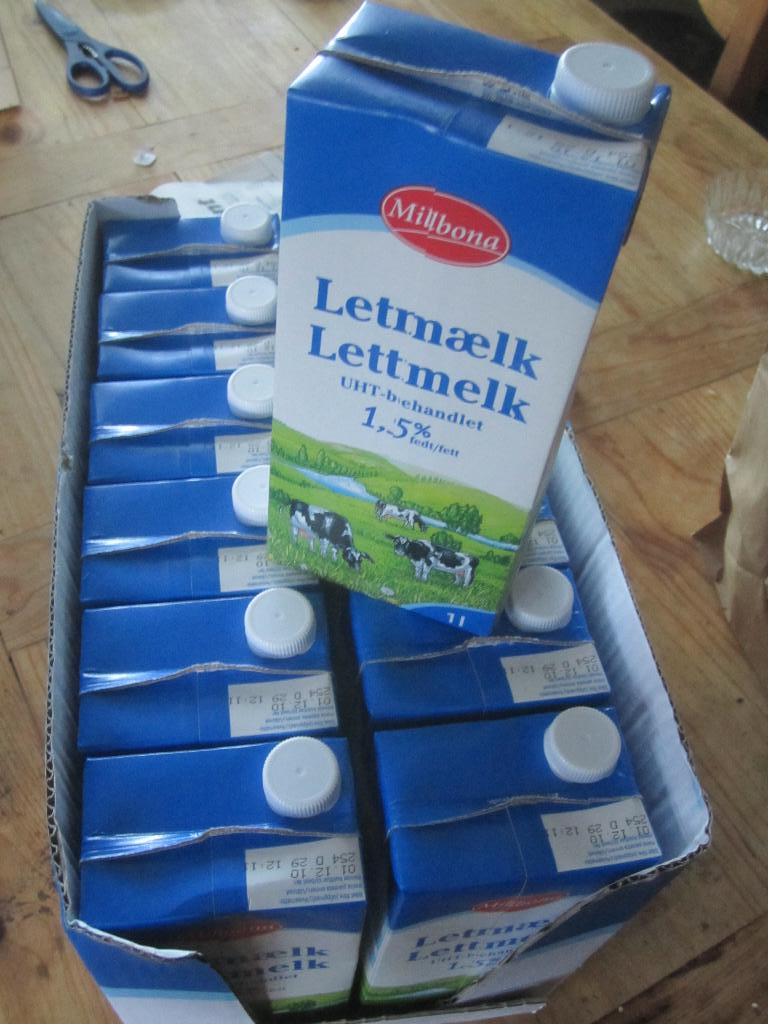 Fancy schmancy, right?! (source)
I've found that
North Americans are really creeped out by this
whole process! It started years ago when I worked a summer on a sailboat in Greece. I did everything from helping to sail to cooking breakfasts and lunches. One of the passengers informed me that we were out of milk. So I started digging into the storage areas around the galley and pulled out a few more liters of milk. The look of horror on their faces! Even though they had been drinking the stuff the entire time, they all refused to have any more milk that trip. Babies ;)
I'm not really the milk drinker in the family, but I will have to say it doesn't taste that much different that regular ol' cold milk. A little creamier, but that is it.
According to Wiki, because you know I didn't just pull this out of my butt, it is known as Ultra-High-Temerature (or UTH) processed milk. It involves the sterilization of food by heating it for an extremely short period, about 1-2 seconds, which kills the harmful spores in milk. The milk is then air-tight sealed in packs and has a
shelf life of six to nine months
. Other than that, it contains the same amount of calories, calcium, although minimal amounts of vitamins can be lost in the UHT process.
Why do it this way rather than just having good ol' pasteurized milk (and unless you are living on a farm, drinking from a cow's teet, you ain't drinking fresh milk)??
Well, for starters, it
saves tons of money
by not having to use the high costs of refrigeration and cooled transportation needs.
Want to know something evil???
You have probably been drinking UHT milk for sometime and not even realized it.
Many milk products in North America use UHT milk, such as McDonald's McFlurries, creamers and milk served on airplanes. Muuaahahahaha! We tricked you!
'Hahaha, I got you idiots. Booya!' Man, Tetra Pak is gangsta (source)
I can see it now, 'Sales of McFlurries Plummet!'
As you can imagine, even the thought of UHT milk isn't popular in the United States. While the process and shelving is perfectly safe, many Americans just don't like the idea of warm milk being delivered to their grocery store.
But it doesn't even seem weird to us any more. Maybe I need to take my Euro Vision glasses off once in a while :)
Have a great Friday!
And for a feel good moment,
check out this heart warming story
I came across yesterday. Tears are in my eyes just thinking about it!