Hey! Happy Canada Day!!

And happy Frackin' Friday :)

Ok, I know, I know, I didn't get to post one of my favorite Canadian videos yesterday. Turns out, there really weren't enough hours in the day to pack up everything, fly to Canada, visit with family AND do a blog post.

Yep, I get what you are thinking, my priorities are screwed up, lol.

But I do have an awesome Frackin' Friday guest post for you today!

It comes from waaay down under, via Red Nomad OZ. Take it away!
How ironic that I've never heard a real Aussie say the phrase we're best known for!! Who knew that when Paul Hogan (aka 'Crocodile Dundee') said 'throw another shrimp on the barbie', we'd still be hearing it 20+ years later.

But while the concept of 'barbecue' isn't exclusive to OZ (as y'all up there in Texas know!! (love it!)), downunder here in OZ it's a way of life with its own lingo.

First up – the 'barbie'! No, we're not obsessed with dolls, it's just the Australian natural tendency to shorten everything. We call it 'laconic', the less tolerant might say 'lazy'!

So what do we throw on the barbie?? 'Snags', of course! What's a snag? A sausage – see what I mean about shortening everything??!! Snags serve a dual purpose. If there's any left over, you could have a cold snag 'sanger' the next day! Sanger = 'sandwich', and rhymes with 'banger' NOT 'danger'!!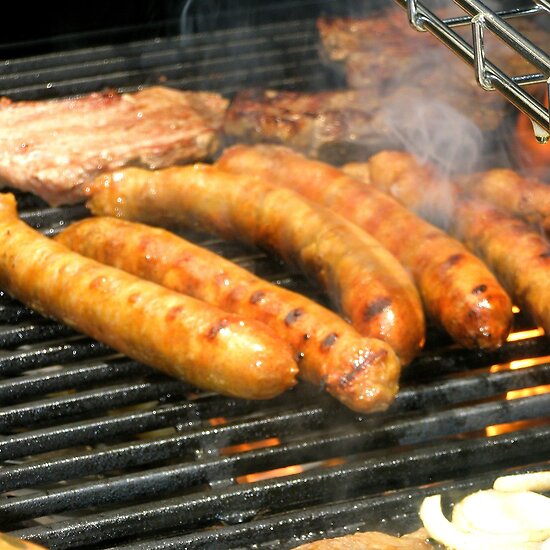 Yum, smell those snags?! (source)
But my shortening rule doesn't hold true with the other essential barbie ingredient – 'dead horse'! No, this isn't a side of the farmer's friend – it's rhyming slang (unashamedly stolen from the Brits) for 'sauce' aka tomato or barbecue sauce!!

So 'throw another snag on the barbie and pass the dead horse' kinda makes sense, right?? And hold the snags for my sanger tomorrow …

The 'barbie' is such a part of our national psyche, it's worked it's way into our greatest insult – 'a couple of snags short of the full barbie' means, of course, that the person of whom you speak is a little bit mentally deficient.

It means the same thing as 'a couple of 'roos loose in the top paddock' – but that's another post for another day!!
Love it, love it all. Ok, so we are grilling today, and I might just have to throw out a "throw another snag on the barbie and pass the dead horse" or two.

And then, of course, when they don't get it, they will get an earful of "a couple of snags short of the full barbie"
Hope everyone up here in Canada is enjoying their holiday and everyone south of the border is gearing up for the long weekend ahead. Oh, and of course everyone else across the world, enjoy the start to your weekend too!
BTW....here is the top trending word for today on the Yahoo homepage. Ok, it's not the same thing, but I like to think it is!
FRACKING! Love it :)