Happy Zombie Sunday, bloggyland! I hope everyone had a great second week of 2011 and you are laid back and takin' it easy today.
After all, not only is it Zombie Sunday, it is also National Nothing Day!
According to several online sources, "National Nothing Day, always held on January 16th, is an 'un-event'. The expectation is that we do not create or otherwise promote this day. In other words, we do nothing. And, to say anything more would contradict the purpose of this day." Source
What are these guys doing, describing a made-up day or re-drafting the constitution?! Heavy words for a day that directly follows "Hat Day".
I guess it could be worse, you could be born on "National Peach Ice Cream" day like I am. :( Oh, and our anniversary is on "National Dance Like a Chicken Day". What does that even mean?!
What day were you born on? Have a look at the
full list of National Days.
Well, I can finally start a countdown to the end of the regular season. Only 15 more games! The hubs' team is expected to make playoffs, so we are hoping to be here well into April. But officially there are only 15 more games on the schedule. And its not like its been terrible or anything this year, it is always just fun to see a light at the end of the tunnel. Even if that light only leads to more games. But hey, in my opinion, playoffs don't count. They are nothing like the monotonous regular season. And no matter how much fun we have had this season - can't tell you how nice it is to be around drama-free people! - I am always excited about the thought of packing up and spending the spring and summer at home in Texas. Can't wait to see friends and family, can't wait to be sun bathing, tropical drink in hand, by the pool, and can't wait for some authentic TexMex!
Ohhhh yeah!
While I am sticking with the 'random' theme today, I have noticed something in bloggyland that has been peeving me the last few weeks. Granted, I am still somewhat of a newbie in this funny little world.
I am a fan of these organized "Blog Hops" put on by various sites (FTLOB always has a good one that I like to take part in). They give exposure to your posts, as well as provide you with a chance to jump around from various blog to various blog that you might not have stumbled upon by yourself. I am always game to read and follow new and interesting writers.
But the last couple of 'hops' that I have participated in have lead me to useless blogs only advertising more 'hops'. They lack any real written content, and instead are jam packed with 'hop' buttons that would just lead me to other sites to hop around.
Uggg, why would I want to hop somewhere else when I purposely choose your site to visit?! I scroll down your blog and it has nothing but 'hop' buttons, links and your occasional signature at the bottom of these half-assed posts. Annoying! My time might be somewhat cherished, but my limited internet usage is really, really precious to me. So do me a favor, and don't even link up. No one out these cares that you are on every blog hop imaginable and have forgotten that a blog is about sharing writing and pictures. Thanks for wasting my time.
And DON'T EVEN get me started on all this "Follow Me and I'll Follow You" Nonsense. Don't get me wrong, I love my followers and I love comments. But follow me if you find my blog interesting not because you think I will follow back. Make your own decisions about who you like and don't like.
After all, I am a busy lady. What do they think it is, "Do-Nothing Day"?!?! Oh......
And on that ranting note, I am in on the FTLOB Sunday Blog Hop. They tend to have great blogs to stumble to and I really love the site. If you haven't checked it out, I suggest you take a moment to have a look around.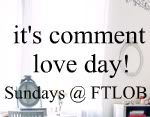 I am pumped for my post tomorrow. I have pictures and stories to tell from our Friday night adventure. I won't give too much away, but the evening included Fire Breathing, people in fake beards, a feast of immeasurable proportions, and costumes.